Congress Works to Ensure Children Are Protected in Custody Disputes
Author: Staff Editors.
Source: Volume 24, Number 02, December/January 2019 , pp.28-28(1)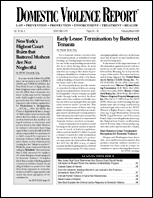 < previous article |next article > |return to table of contents
Abstract:
On September 25, 2018, the U.S. House of Representatives passed a landmark bill to ensure that children are protected in custody disputes, a concurrent resolution (H. Con. Res. 72) urging state courts to determine family violence claims and risks to children before considering other "best interest" factors. This article summarizes the bill and its intended benefits, the bipartisan members who co-sponsored it, and the more than 70 organizations that worked to promote passage.
Keywords: H. Con. Res. 72

Affiliations: 1: Domestic Violence Report.