Civil Legal Aid Can Buffer Against Witness Tampering Involving Children
Author: Amy Bonomi.; David Martin.
Source: Volume 24, Number 02, December/January 2019 , pp.27-29(3)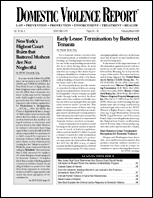 < previous article |next article > |return to table of contents
Abstract:
In 2011 the authors published the first analysis of jail phone calls that occur between domestic abusers and their victims, outlining a five stage model describing how abusers pressure their victims to change their stories and prepare to recant in court. This article summarizes the authors' 2017 study outlining a critical extension of witnesstampering in domestic abuse cases:namely, how abusers manipulate their intimate partners by triangulating their children.
Keywords: Witness Tampering; Triangulation; Victim Manipulation

Affiliations: 1: Michigan State University; 2: King County Prosecutor.