What Do Primary Aggressor Laws Achieve? A 10-Year National Study of Their Efficacy
Author: David Hirschel.; Philip D. McCormack.
Source: Volume 24, Number 02, December/January 2019 , pp.25-28(4)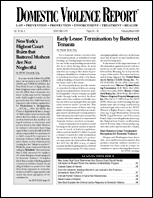 < previous article |next article > |return to table of contents
Abstract:
Many states have enacted primary aggressor laws mandating officers to determine who was the primary aggressor in a domestic violence incident. This article examines the question of whether these laws have been effective in reducing the prevalence of dual arrest. The authors' study, using ten years of data from the FBI's National Incident-Based Reporting System (NIBRS), concludes that dual arrests continue to occur in a large percentage of domestic violence cases despite primary aggressor statutes.
Keywords: Primary Aggressor Laws; Dual Arrests

Affiliations: 1: University of Massachusetts Lowell (Emeritus); 2: Fitchburg State University.