Progressive Protections for DV Survivors in Louisiana
Author: Jeremy Woolard.
Source: Volume 24, Number 02, December/January 2019 , pp.23-25(3)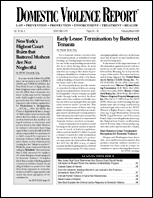 < previous article |next article > |return to table of contents
Abstract:
The state of Louisiana has enacted a number of progressive family law reforms in recent years aimed at affording survivors of domestic violence enhanced legal protections. In this article, Jeremy Woolard, staff attorney for the Louisiana Coalition Against Domestic Violence, surveys some of the most significant of these measures—including expanded grounds for immediate divorce, financial protections for abused spouses, and presumption against sole or joint custody for parents who perpetrate family violence—and how they may serve as models for reform in states that currently lack these legal protections for victims.
Keywords: Fault Grounds for Divorce; Presumption an Abused Spouse Receives Spousal Support; Child Custody

Affiliations: 1: Louisiana Coalition Against Domestic Violence.