Violence Against Women Act Must Not Languish In "MeToo" Era
Author: Lynn Rosenthal.
Source: Volume 24, Number 02, December/January 2019 , pp.21-23(3)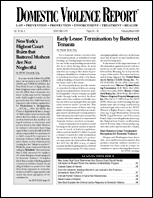 < previous article |next article > |return to table of contents
Abstract:
Lynn Rosenthal, Director of Violence Against Women Initiatives for the Biden Foundation and, from 2009-2015 White House Advisor on Violence Against Women for the Obama administration, examines the current impasse in reauthorizing the Violence Against Women Act, offering a history of the legislation and its three previous reauthorizations, the current political and social conditions, including #MeToo, that make reauthorization necessary, and strategies for getting a reauthorization bill through Congress and onto the desk of the president.
Keywords: Violence Against Women Act; VAWA Reauthorization

Affiliations: 1: Biden Foundation.