More Than 525 Women Shot and Killed Every Year by Intimate Partners
Author: Staff Editors.
Source: Volume 24, Number 02, December/January 2019 , pp.21-21(1)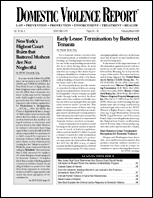 next article > |return to table of contents
Abstract:
A new report from the Brady Center to Prevent Gun Violence, "Beyond Bullet Wounds: Guns in the Hands of Domestic Abusers," explores the alarming statistics on incidents of shootings in domestic violence cases. This brief review summarizes the report's key findings and recommendations.
Keywords: Violence Prevention; Brady Center to Prevent Gun Violence

Affiliations: 1: Domestic Violence Report.