Complete Issue
Author: D. Kelly Weisberg.
Source: Volume 24, Number 01, October/November 2018 , pp.1-20(20)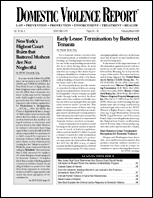 < previous article |return to table of contents
Abstract:
This is the second of two issues of DVR devoted to tribal law. Articles in this issue feature the tribal law provisions in the Violence Against Women Act, a landmark case prosecuted under the new federal strangulation law, a recent U.S. Supreme Court case on the use of tribal court convictions in subsequent prosecutions in federal court, and the role of protection orders in tribal courts.
Keywords: Title IX Safety for Indian Women; Indian Civil Rights Act (ICRA); Oliphant v. Suquamish Indian Tribe; Tribal Law and Order Act of 2010; VAWA 2013; Public Law 280; 18 U.S.C. §113; United States v. Jordan Lamott; Indian Child Welfare Act (ICWA)

Affiliations: 1: Editor.