Indian Child Welfare Act in Custody Cases Involving Domestic Violence: Case Summaries
Author: Annie L. Perry.; Julie Saffren, J.D..
Source: Volume 24, Number 01, October/November 2018 , pp.20-20(1)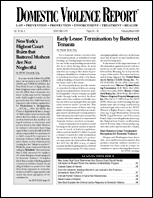 < previous article |next article > |return to table of contents
Abstract:
The Indian Child Welfare Act (ICWA) provides special protections in child welfare proceedings for children who are members of—or eligible for membership in—an Indian Tribe. This issue's "Cases" column examines a ruling in In the Matter of J.C., 417 P.3d 1218, an Oklahoma case in which a father was initially denied the right to participate in a child welfare adjudication involving his son, who was to be removed from the custody of the child's mother because of her use of illegal drugs in the home. One of the major protections in child welfare proceedings is the opportunity for a hearing on the allegations. Here, the court agreed that the father should not have beeen deprived of this opportunity.
Keywords: Indian Child Welfare Act (ICWA); Mississippi Band of Choctaw Indians v. Holyfield

Affiliations: 1: Contributing Editor; 2: Associate Editor.