Prosecuting a Landmark Non-Fatal Strangulation Case in Federal Court
Author: Leslie A. Hagen, J.D..
Source: Volume 24, Number 01, October/November 2018 , pp.5-9(5)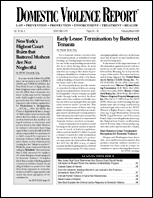 < previous article |next article > |return to table of contents
Abstract:
Under 18 U.S.C. §113, it is now possible to prosecute perpetrators in Indian County for the specific offenses of strangulation and suffocation. This article details the facts, evidence, legal foundation, and precedents in a landmark prosecution of non-lethal strangulation under §113, a significant victory and model for future prosecutions.
Keywords: Assault Resulting in Serious Bodily Injury (ARSBI); 18 U.S.C. §113; United States v. Jordan Lamott

Affiliations: 1: U.S. Department of Justice.