Tribal Courts and the Power to Protect
Author: Honorable Kelly Gaines Stoner.; Shandi S. Campbell.
Source: Volume 24, Number 01, October/November 2018 , pp.3-5(3)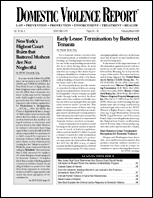 < previous article |next article > |return to table of contents
Abstract:
VAWA 2013 granted Tribal Courts the power to issue and enforce protective orders "involving any person" within its jurisdiction whether or not native American as well as other jurisdictions under "full faith and credit" principle. Public Law 280 (18 U.S.C. § 1162 et seq.) extended the authority of six states to apply state law in Indian country over civil matters with some exceptions. This article examines the principle jurisdictional powers of tribal courts, especially with respect to criminal offenses against tribal women, and summarizes jurisdictional boundaries and identifies gaps between tribal and federal law. Includes two useful tables summarizing criminal jurisdiction on reservations not affected by PL 280 and criminal jurisdiction for states and reservations where PL 280 applies.
Keywords: VAWA 2013; Public Law 280

Affiliations: 1: Seminole Nation of Oklahoma; 2: Attorney at Law.