Use of Tribal Convictions in Federal Court
Author: Leslie A. Hagen, J.D..
Source: Volume 24, Number 01, October/November 2018 , pp.1-4(4)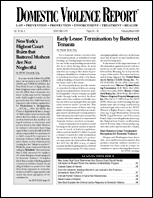 next article > |return to table of contents
Abstract:
In its 2005 VAWA Reauthorization, Congress addressed jurisdictional and statutory gaps between U.S. and tribal law courts that had made it difficult to prosecute domestic violence cases in which native American women had been assaulted. One of Congress's stated purposes for enacting Title IX was "to ensure that perpetrators of violent crimes committed against Indian women are held accountable for their criminal behavior." Accordingly, Congress created, as a part of Title IX, the new federal crime of domestic assault by an habitual offender, codified at 18 U.S.C. §117. This article reviews a series of crucial court decisions upholding the Constitutionality of these so-called §117 prosecutions, including the Supreme Court's 2016 decision in United States v. Bryant, with a special focus on cases in successful §117 actions against perpetrators whose tribal court convictions had been challenged on technical grounds, such as inadequate access to legal counsel.
Keywords: Violence Against Women Reauthorization Act of 2005; Title IX Safety for Indian Women; Indian Civil Rights Act (ICRA); United States v. Roman Cavanaugh, Jr.; United States v. Shavanaux; 18 U.S.C. § 117; United States v. Bryant, 136 S. Ct. 1954 (2016)

Affiliations: 1: U.S. Department of Justice.