Cases on Tribal Law
Author: Annie L. Perry.; Julie Saffren, J.D..
Source: Volume 23, Number 06, August/September 2018 , pp.85-86(2)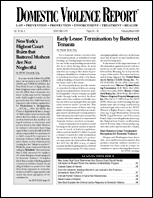 < previous article |next article > |return to table of contents
Abstract:
The investigation and prosecution of domestic violence crimes that occur in Indian country may create an interplay of federal and tribal law, with agency involvement that can include the FBI, Bureau of Indian Affairs, tribal police and US Attorney's Office, among others. This issue's "Cases" column examines cases involving a DV conviction based on expert testimony on typical signs of strangulation in spite of contradictory testimony given by the victim that attempted to exonerate the defendant; a case in which an abusive partner was charged in Tribal court and pled guilty, then charged by federal prosecutors with different crimes arising from the same act, using his guilty plea as evidence, which defendant claimed violated his Fifth and Sixth Amendment rights against self-incrimination; and a ruling in California that tribal officers have the authority to enforce a state-issued restraining order on tribal land.
Keywords: U.S. v. Vasquez; U.S. v. Gillette; Bishop Paiute Tribe v. Inyo County

Affiliations: 1: Contributing Editor; 2: Associate Editor.