Overdue Justice: DV Jurisdiction in Indian Country
Author: Elizabeth A. Reese.; Virginia Davis.
Source: Volume 23, Number 06, August/September 2018 , pp.81-84(4)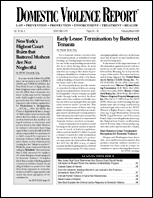 next article > |return to table of contents
Abstract:
Until the 2013 reauthorization of VAWA, Indian tribal courts were unable to exercise jurisdiction over non-Indians, so that in cases in which an Indian woman was abused by a non-Indian man, it was left to federal prosecutors to pursue cases of abuse; too often, no prosecution was pursued. This article examines some of the important jurisdictional issues and analyzes important case law on domestic violence in Indian Country, with a special focus on the problems that arise when the abuser is not an Indian, and how advocates are finding solutions, such as SDVCJs, in situations in which cooperation and mutual reliance among federal, tribal, and state law enforcement is vital, but difficult to achieve.
Keywords: Inter-rational domestic violence; Oliphant v. Suquamish Tribe; Special Domestic Violence Criminal Jurisdictions (SDVCJ); VAWA 2013

Affiliations: 1: National Congress of American Indians (NCAI); 2: National Congress of American Indians (NCAI).