Complete Issue
Author: Walter S. DeKeseredy.
Source: Volume 23, Number 05, June/July 2018 , pp.65-80(16)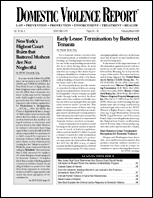 < previous article |return to table of contents
Abstract:
This special issue of the Domestic Violence Report is devoted to helping bring the plight of rural women to the forefront of our efforts to reduce violence against women. Four articles are included here. In the first one, Walter DeKeseredy examines, from a social scientific standpoint, what we know and what we don't know about violence against women in rural American communities. Much of what we know about rural domestic violence also comes from Australian research, which is why we invited the authors of the second and third articles (Drs. Sarah Wendt and Skye Saunders) to contribute to this issue. A final article (by Sara Benson) suggests that rural librarians can serve as a point of access to services for domestic violence victims. We hope these offerings help generate a meaningful dialogue about responding to the thousands of rural women who continue to suffer in silence and who lack adequate support services.
Keywords: Violence Against Women in Rural Communities

Affiliations: 1: West Virginia University.