Violence Against Women in Rural Communities: What We Know and What We Don't Know
Author: Walter S. DeKeseredy.
Source: Volume 23, Number 05, June/July 2018 , pp.65-68(4)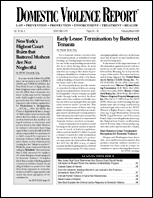 next article > |return to table of contents
Abstract:
The guest editor of this special issue focused on domestic violence in rural America surveys the most important research about rural IPV, which we now know is more common than IPV in either urban or suburban communities. Walter DeKeserdy describes the social scientific research literature on lethal and non-lethal violence against rural women and girls, and identifies important gaps in our knowledge where additional study is needed.
Keywords: Violence against rural women; intimate femicide; Gun ownership; "rural patriarchy"; separation and divorce

Affiliations: 1: West Virginia University.