IPV and the Intergenerational Transmission of Violence
Author: Todd I. Herrenkohl.; Ashley N. Rousson.
Source: Volume 23, Number 04, April/May 2018 , pp.57-60(4)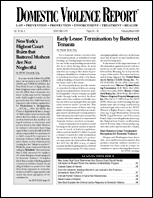 < previous article |next article > |return to table of contents
Abstract:
This article summarizes research from the Lehigh Longitudinal Study on child maltreatment and DV exposure to learn about the association between child maltreatment and later experiences of adult interpersonal violence. The Lehigh study is one of the few ongoing extended longitudinal studies seeking to determine whether children exposed to abuse and DV when they were young were at higher risk to perpetrate and re-experience violence in their own relationships than children not exposed to DV and abuse. It began in the 1970s with a sample of 457 preschool-aged children, some of whom encountered various forms of adversity when they were young. The children are now adults and we have assessed them several times since they and their families were first assessed in 1976-1977.
Keywords: Child maltreatment; development and prevention of interpersonal violence; trauma-responsive programs; childhood resilience; etiology of intimate partner violence

Affiliations: 1: University of Michigan School of Social Work; 2: University of Washington School of Social Work.