Church Shooting Reveals Deadly Gaps in Criminal Background Check System
Author: Chelsea Parsons.
Source: Volume 23, Number 04, April/May 2018 , pp.49-53(5)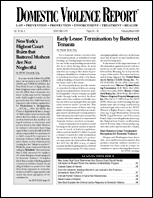 next article > |return to table of contents
Abstract:
On Sunday morning, November 5 2017, 26 year old Devin Patrick Kelley approached the front doors of the First Baptist Church in Sutherland Springs, Texas dressed in tactical gear and armed with a semi-automatic assault rifle and multiple high-capacity magazines. When he was finished, 26 people were dead and another 20 injured. Devin Kelley should not have been able to buy the gun used in this attack. This article examines the errors and loopholes in the National Instant Criminal Background Check System that allowed Kelley to acquire a formidable arsenal, including gaps that are exploited by domestic abusers and hate groups, and suggests critical reforms need to ensure that background checks work as they are intended to safeguard the public.
Keywords: National Instant Criminal Background Check System; Devin Patrick Kelley; Sutherland Springs, Texas

Affiliations: 1: Center for American Progress.