Adolescent Dating Violence Prevention: Perspectives of School Personnel in the United States
Author: Jagdish Khubchandani.; Erica Somerson.; Jacqueline Davis.
Source: Volume 23, Number 03, February/March 2018 , pp.33-36(4)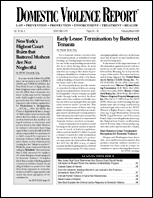 next article > |return to table of contents
Abstract:
Schools are being considered as an avenue for prevention of adolescent dating violence. Indeed, almost half of American states have some type of law recommending that schools take actions to prevent adolescent dating violence. However, there is no evidence to show if schools across various states are prepared to deal with the new recommendations from policy makers on adolescent dating violence prevention and, in fact, the study reported here suggests that while the majority of school principals, counselors, and nurses report having assisted victims of dating violence in the past two years, more than half were unable to correctly answer knowledge questions about best practices and protocols for intervening when students become ensnared in a violent dating relationship. This article examines the key issues and findings of the authors' significant investigation, and offers eight specific strategies schools should adopt to address adolescent dating violence.
Keywords: Adolescent Dating Violence (ADV); School-based Anti-violence Policies and Procedures

Affiliations: 1: Ball State University; 2: Ball State University; 3: Ball State University.