Case Summaries: 911 Calls to First Responders
Author: Annie L. Perry.; Julie Saffren, J.D..
Source: Volume 23, Number 02, December/January 2018 , pp.22-25(4)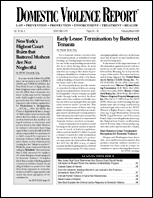 < previous article |next article > |return to table of contents
Abstract:
This issue's Case Summaries collects recent cases on 911 calls and reflects how courts across the country are wrestling with their admissibility or exclusion in criminal prosecutions for domestic violence related crimes. An introductory note by Julie Saffren aids readers in understanding the basis for admissibility and exclusion of this important evidence, based on the U.S. Supreme Court's decision in Crawford v Washington.
Keywords: Crawford v Washington, 541 U.S. 36 (2004); State v. Yollen; Commonwealth v. Baldwin; State v. Boss; State v. Sullens; Jordan v. State; Hernandez v. State; State v. Froelich

Affiliations: 1: Contributing Editor; 2: Associate Editor.