"Home Truth": How Domestic Violence Ripples Through Generations in Families
Author: April Hayes.; Katia Maguire.
Source: Volume 23, Number 02, December/January 2018 , pp.3-5(3)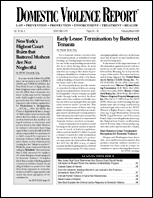 < previous article |next article > |return to table of contents
Abstract:
April Hayes and Katia Maguire are Directors/Producers of the recent film "Home Truth," a feature-length documentary about the life, legal case, and advocacy work of Jessica Lenahan (formerly Gonzales). Jessica was the plaintiff in the famous Supreme Court case of Castle Rock v. Gonzales (2005). In this article, the film makers explain how they worked with Jessica in making a film that would explore the issues raised by the case, including gun violence, gender bias in law enforcement, and police accountability. "Home Truth" is available for events and screenings at universities and community organizations. To watch the trailer of the film and contact the filmmakers to book a screening, please visit www.hometruthfilm.com.
Keywords: Castle Rock v. Gonzales; Jessica Lenahan; "Home Truth"

Affiliations: 1: Documentary Filmmaker; 2: Documentary Filmmaker.