Children Bereaved by Domestic Homicide: Demographics and Exposure
Author: Eva Alisic.
Source: Volume 23, Number 02, December/January 2018 , pp.17-20(4)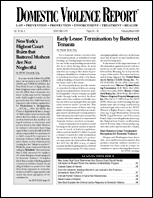 next article > |return to table of contents
Abstract:
Domestic homicide has a major and enduring impact on children. It turns their world completely upside down; often they lose both parents at once—one to murder and one to prison or suicide—as well as their home and school environment. Professionals have to make vital decisions in these circumstances. Where should the children live; is it better for them to stay with the family of the victim, should it be a neutral environment, or is the family of the perpetrator a possibility? Should they have contact with the perpetrator in prison? What kind of mental health support do the children and their caregivers need? At the same time, many of the professionals involved see only a few cases of domestic homicide in their entire career. This article summarizes the preliminary esults of an important study, including a series of interviews, being conducted by the author and her colleagues at Monash University in Australia to learn about the impact on children bereaved by domestic homicide and how to improve support for these children.
Keywords: Child exposure to violence; trauma-focused treatment

Affiliations: 1: Monash University.