Case Summaries: Orders of Protection
Author: Anne L. Perry.
Source: Volume 23, Number 01, October/November 2017 , pp.7-8(2)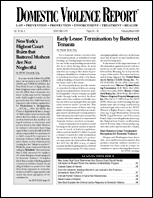 < previous article |next article > |return to table of contents
Abstract:
A summary of important appellate rulings from around the country focused on the terms of orders of protection. In South Carolina, the state supreme court ruled that domestic violence protections must apply to same-sex couples; in the Seventh Circuit Court, a majority ruled that violation of a protective order was sufficient grounds for deportation of an undocumented husband.
Keywords: Doe v. State, 2017 WL 3165132 (S.C. 2017); Garcia-Hernandez v. Boente, 847 F.3d 869 (7th Cir. 2017); U.S. v. Crespo, 2017 WL 685572 (S.D.N.Y. 2017)

Affiliations: 1: Contributing Editor.