Enforcement of New UK Crime of Coercive Control
Author: Evan Stark.
Source: Volume 23, Number 01, October/November 2017 , pp.5-9(5)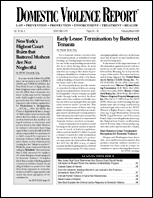 < previous article |next article > |return to table of contents
Abstract:
On December 29, 2015, after two years of consultation and debate, the United Kingdom (UK) made "coercive and controlling behavior in an intimate or family relationship" a criminal offense (Serious Crime Act of 2015, § 76). This is the first law in the world that criminalizes the distinctive feature of domestic violence known as "coercive control." To determine how well the new law is working, the author reviewed cases that have been prosecuted under the new law to assess whether and to what extent enforcement has been consistent with a broad understanding of coercive control and to distinguish limits of intervention that reflect failures in implementation from gaps in the law itself. In this article, Dr. Stark presents important examples of the law in action, and suggests revisions that would make the law more effective. Although the U.S. has yet to criminalize coercive control, the lessons learned from the UK experience could be invaluable here.
Keywords: Coercive control; UK Serious Crime Act of 2015

Affiliations: 1: Rutgers University (Emeritus).