IPV Homicides Worldwide: WHO and CDC Reports
Author: D. Kelly Weisberg.
Source: Volume 23, Number 01, October/November 2017 , pp.1-2(2)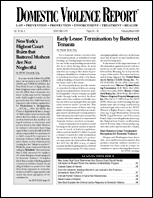 < previous article |next article > |return to table of contents
Abstract:
This article briefly summarizes the findings of two recent reports on domestic violence killings that examine the issue as a public health problem: "Intimate Partner and Sexual Violence against Women" by the World Health Organization; and "Racial and Ethnic Differences in Homicides of Adult Women and the Role of Intimate Partner Violence — United States, 2003–2014" by the Centers for Disease Control.
Keywords: National Violent Death Reporting System (NVDRS)

Affiliations: 1: Hastings School of Law.