Domestic Homicide in the Context of Strict Gun Control: A Case Study of the Netherlands
Author: Helene Koekkoek.; Marieke Liem.
Source: Volume 23, Number 01, October/November 2017 , pp.1-6(6)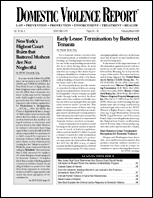 next article > |return to table of contents
Abstract:
Homicide rates in Western Europe have declined considerably in recent decades—with the exception of domestic homicides, which have remained steady. Since the Netherlands also has very low rates of gun ownership, the authors of this study set out to study domestic homicides in a country with low firearm availability. Their exploration of data from the Dutch Homicide Monitor over a six year period from 2009 to 2015 draws important conclusions about the nature of domestic violence and intimate partner killings, victims and perpetrators, demographics, and the likely impact of firearm availability on lethality rates.
Keywords: Gun control laws; intimate partner homicide; child killing; domestic homicide in the Netherlands

Affiliations: 1: University College of Utrecht; 2: Institute of Security and Global Affairs, Leiden University.