Cyber Exploitation and Perpetration of Digital Abuse
Author: Christina M. Gagnier.
Source: Volume 22, Number 06, August/September 2017 , pp.91-94(4)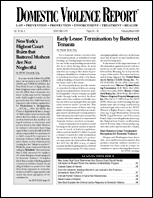 < previous article |next article > |return to table of contents
Abstract:
Various approaches have been taken to combat cyber exploitation and digital abuse. California's model for employing a multipronged approach to combatting cyber exploitation and digital abuse, tying together criminal penalties, civil remedies, statewide office activism and law enforcement training, may serve as a model that can be adopted in other states. This article examines California's statutory protections and enforcement activities, and explores approaches to strengthening existing and future laws in order to enhance protections for victims and access to justice. Federal efforts to criminalize nonconsensual pornography, the Intimate Privacy Protection Act, are also examined as an effort to standardize the approach to crimes, such as nonconsensual pornography, on the national stage.
Keywords: Digital abuse; California Penal Code §647(j)(4); nonconsensual pornography

Affiliations: 1: University of California at Irvine School of Law.