A Mother Vindicated: Landmark Cyberstalking Case
Author: Jaime McCall, J.D..; Shawn A. Weede, J.D..
Source: Volume 22, Number 06, August/September 2017 , pp.69-72(4)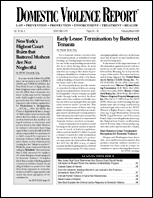 next article > |return to table of contents
Abstract:
On the of February 11, 2013,the bustling lobby of the New Castle County Courthouse in Wilmington, Delaware, was turned into a shooting gallery as Thomas Matusiewicz shot and killed his former daughter-in-law, Christine Belford, and her friend, Beth Mulford. Thomas also shot two Capitol Police officers, who were providing security at the courthouse, before taking his own life. This brutal criminal act touched off a six-month joint federal and state investigation, which spanned multiple jurisdictions from Delaware to the Texas-Mexico border. The investigation uncovered evidence of a three-year interstate stalking and cyberstalking campaign, which left Christine and her young children in constant fear for their lives, and ultimately resulted in her death. These criminal acts were precipitated by a bitter child custody dispute between Christine's former husband Davis (Thomas's son) and Christine that dated back to 2007, and involved the commission of an international parental kidnapping and bank fraud. An analysis follows of how the government proved this landmark case.
Keywords: kidnapping; stalking; Actus Reus and Mens Rea; Violence Against Women Act; United States v. Matusiewicz

Affiliations: 1: U.S. Attorney's Office, District of Delaware; 2: U.S. Attorney's Office, District of Delaware.