How to Help Immigrant Survivors of Stalking Obtain Immigration Relief Through U Visa Program
Author: Andrea Carcamo, J.D..
Source: Volume 22, Number 05, June/July 2017 , pp.73-76(4)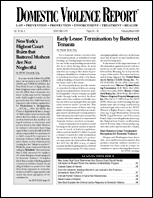 < previous article |next article > |return to table of contents
Abstract:
U visas are an important resource for immigrant survivors of stalking. The U visa was created as a tool to help law enforcement identify and help immigrant victims of crime by allowing undocumented immigrants the opportunity to apply for a limited term immigration benefit as a result of reporting a crime and cooperating with judges, prosecutors, and police officers, while helping law enforcement identify and apprehend dangerous criminals and sexual predators. This article examines key ways the U visa program can be used to help immigrant victims of stalking seek relief.
Keywords: U Visa; limited term immigration benefit; Form I-918B

Affiliations: 1: Immigration and Gender Based Violence Consultant.