Stalking on College Campuses
Author: Jennifer Landuis.
Source: Volume 22, Number 05, June/July 2017 , pp.71-73(3)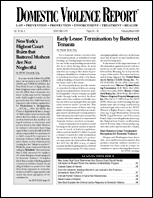 < previous article |next article > |return to table of contents
Abstract:
This article examines the dynamics and prevalence of stalking on college campuses. It focuses on stalking as defined in the Campus Security Policy and Campus Crime Statistics Act (also known as the "Clery Act") and outlines the factors necessary to support successful anti-stalking enforcement, including a better understanding of what actually constitutes stalking, the need for reporting, appropriate police response and specialized training, and campus prevention and awareness programs.
Keywords: Clery Act reporting; Violence Against Women Act; anti-stalking enforcement programs

Affiliations: 1: National Center for Victims of Crime.