Impact of Stalking Victimization on Separation: Assessing and Addressing Safety and Economic Security
Author: TK Logan.; Robert Walker.
Source: Volume 22, Number 05, June/July 2017 , pp.69-74(6)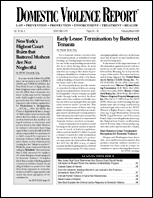 next article > |return to table of contents
Abstract:
Despite the difficulties, many women do attempt to leave abusive partners. Leaving does not always stop the abuse, however—it frequently results in ongoing harassment and stalking. The combination of concerns about safety and economic security compel some victims to return to their abusive partner, at least for a time, and some studies find that victims stalked by violent partners report more separation attempts than partners who report never being stalked. This article examines a phenomenon that is frustrating to professionals working with partner violence victims: leaving and staying. It looks at the tremendous costs on victims—fear, economic loss, social ostracism and isolation, and long term cumulative harms—and suggests strategies for helping stalking victims.
Keywords: Economic costs of stalking; social costs; vulnerability costs; long-term costs; cumulative harms and resulting costs

Affiliations: 1: University of Kentucky College of Medicine; 2: University of Kentucky College of Medicine.