Abusive Endings: Separation and Divorce Violence Against Women
Author: Walter S. DeKeseredy.
Source: Volume 22, Number 04, April/May 2017 , pp.53-55(3)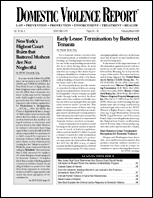 next article > |return to table of contents
Abstract:
Separation abuse is one of the most significant threats to women's health. A new book by Walter DeKeseredy, Molly Dragiewicz, and Martin D. Schwartz examines why and how men abuse women during and after a separation or divorce. In this article, DeKeseredy highlights some of the most important research findings and intervention strategies detailed in the book. DeKeseredy offers a more expansive and useful definition of separation/divorce violence, challenging the "common sense" notion that a couple must be living apart (many "separated" and divorced couples still live together); examines some of the ways new technology is being used to stalk, harass, and punish abuse victims, and the role of male peer support in perpetuating a culture of violence; and outlines a multi-pronged approach for predicting, preventing, and prosecuting separation violence.
Keywords: homicide risk; image-based sexual abuse; revenge porn; dangerous consequences of male pornography consumption; sexual and reproductive 'property'; male proprietariness and male peer support

Affiliations: 1: West Virginia University.