Complete Issue
Author: D. Kelly Weisberg.
Source: Volume 22, Number 03, February/March 2017 , pp.33-48(16)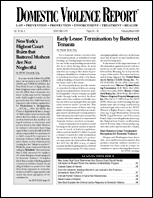 < previous article |return to table of contents
Abstract:
Intimate partner violence against persons with disabilities is surprisingly prevalent. It is also associated with long-term physical as well as mental health problems. Yet, services addressing this population's needs are limited. Research is just beginning to address the problem. This Special Issue addresses research that explores the characteristics and service-related needs of survivors with disabilities.
Keywords: Domestic violence and disability

Affiliations: 1: Executive Editor, Domestic Violence Report.