Exploring Self-Defense for Women With Disabilities
Author: Michelle Ballan.; Molly Freyer.
Source: Volume 22, Number 03, February/March 2017 , pp.39-41(3)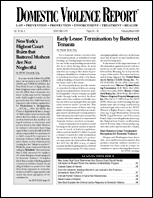 next article > |return to table of contents
Abstract:
Can self-protective actions mitigate the abuse that women with disabilities experience at the hands of their abusers? This article looks at vulnerabilities to self-protection against domestic violence for women with disabilities, as well as considering the possibilities for enhancing these strategies in a safe, disability-sensitive manner.
Keywords: Nonverbal methods of self-protection; nonviolent self-defense; self-defense in avoiding rape completion; harm-reduction; empowerment-focused classes; client assessment; safety planning

Affiliations: 1: Stony Brook Medical School; 2: New York University's Silver School of Social Work.