Male Survivors of IPV With Disabilities: An Overlooked Population
Author: Michelle Ballan.; Molly Freyer.
Source: Volume 22, Number 03, February/March 2017 , pp.37-41(5)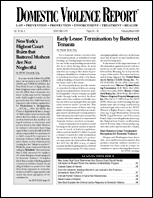 < previous article |next article > |return to table of contents
Abstract:
The stigma of seeking help as a male, combined with a lack of awareness regarding disability-related abuse, may deter the identification of abuse in this population. This article notes the effect of IPV on the health of men with disabilities, the unique types of abuse experienced, and the limited options available to those experiencing abuse. It concludes with the findings from a recent study by the authors to explore relevant demographic characteristics and help-seeking behaviors of men with disabilities.
Keywords: Demographic and Psychosocial Characteristics; Abuse dynamics/perpetrator characteristics; Referral Channels and Client Needs; Clients' Service Utilization

Affiliations: 1: Stony Brook Medical School; 2: New York University's Silver School of Social Work.