Help-Seeking Among Deaf Female Survivors of IPV
Author: Michelle Ballan.; Molly Freyer.
Source: Volume 22, Number 03, February/March 2017 , pp.33-35(3)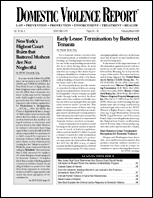 next article > |return to table of contents
Abstract:
Deaf women are subject to heightened rates of IPV compared with hearing women. While Deaf and hard of hearing women experience physical, sexual, psychological, and financial abuse similar to hearing women, they may also contend with forms of disability-specific abuse. The authors explore the factors related to disclosure of abuse and help-seeking behavior in hopes of improving access to IPV services for Deaf survivors.
Keywords: Deaf culture; interpreting services; Secret Garden program; referral sources; vocational and educational services; legal resources; presence of children

Affiliations: 1: Stony Brook Medical School; 2: New York University's Silver School of Social Work.