Complete Issue
Author: D. Kelly Weisberg.
Source: Volume 22, Number 02, December/January 2017 , pp.17-32(16)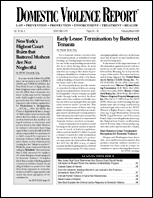 < previous article |return to table of contents
Abstract:
We are pleased to present this special issue, Volume 22 Number 2, devoted to Property Issues in the Context of Domestic Violence. These issues include: property damage and destruction as a form of abuse, the role of domestic violence in property division at divorce, the interrelationship between bankruptcy and domestic violence, and the tax implications of intimate partner violence.It includes the full text of all the articles listed with hyperlinks from table of contents entries to articles and linked article continuations, to facilitate reading.
Keywords: Weaponized assets; fault-based divorce; fraudulent title documents, debt, and conveyances; marriage and dissolution protections; protective orders; California Domestic Violence Prevention Act; ex parte restraining order; property destruction; power a

Affiliations: 1: editor of DVR .