A Brief Introduction to the Intersections Between Domestic Violence Law and Bankruptcy Law
Author: Danisha Brar.; Jared Ellias.
Source: Volume 22, Number 02, December/January 2017 , pp.21-23(3)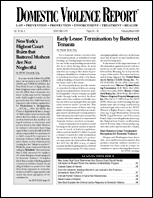 < previous article |next article > |return to table of contents
Abstract:
This article provides a brief summary overview of some issues in bankruptcy law that might matter for victims of domestic violence. As the included example illustrates, victims of domestic violence often find themselves confronting the federal bankruptcy system in various capacities that might be surprising both to them and their lawyers.
Keywords: state court injunction; bankrupt spouse; Bankruptcy Abuse Prevention and Consumer Protection Act of 2005; In re Young, 346 B.R. 597, 610 (Bankr. E.D.N.Y. 2006); domestic support obligations

Affiliations: 1: Bankruptcy Court for the Northern District of California; 2: UC Hastings.