Lethality Assessment in Domestic Violence Cases
Author: Jill Theresa Messing.; Jacqueline Campbell.
Source: Volume 21, Number 06, August/September 2016 , pp.89-91(3)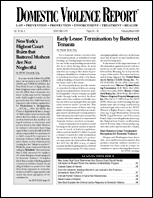 next article > |return to table of contents
Abstract:
This article examines cases in which risk assessments using the Danger Assessment tool were not admitted into evidence, and also reviews refinements to the DA introduced to improve the tool\'s predictive value based on current research into the leading risk factors for femicide or attempted femicide.
Keywords: IPV risk assessment; Danger Assessment

Affiliations: 1: Arizona State University; 2: Johns Hopkins University School of Nursing.