Using the Danger Assessment as a Domestic Violence Expert Witness
Author: Nancy K.D. Lemon.
Source: Volume 21, Number 05, June/July 2016 , pp.87-87(1)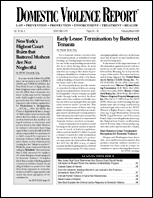 < previous article |next article > |return to table of contents
Abstract:
The author explains how she uses Campbell's Danger Assessment in her work as an expert witness in prosecution, defense, asylum, family law, civil suits, and administrative hearings.
Keywords: Expert witness testimony

Affiliations: 1: UC Berkeley School of Law.