Impact of Domestic Violence on Custody and Parental Rights
Author: Annie L. Perry.
Source: Volume 21, Number 05, June/July 2016 , pp.77-82(6)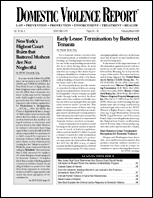 < previous article |next article > |return to table of contents
Abstract:
A summary of important appellate rulings from around the country focused on custody decisions where family violence was present. In New York, the Division of Appeal ruled that a father's domestic violence against his girlfriend was a "Change in Circumstances" and established a basis for the mother to seek modification of the couple's custody arrangement; a mother was granted custody despite removal of the child from the state when she was able to demonstrate that the father had engaged in acts of violence against her; a South Dakota supreme court decision that a mother's prior conviction on a disorderly conduct charge did not presumptively exclude her from gaining custody of her two children in a contested divorce; an Arkansas cases in which a termination of an abusive father's rights was reversed in order to consider less drastic alternatives; and an Ohio case in which a mother's parental rights were terminated for failure to protect her children from domestic violence.
Keywords: Fountain v. Fountain; Matter of MJM v. MM; Brown v. Akatsu; Nickles v. Nickles; Lively v. Arkansas Dept. of Human Services; In re J.M.; In re: T.B., J.R., et al.

Affiliations: 1: Contributing Editor.