Complete Issue
Author: D. Kelly Weisberg.
Source: Volume 21, Number 04, April/May 2016 , pp.53-68(16)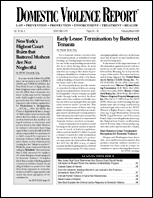 < previous article |return to table of contents
Abstract:
We are pleased to present our second special issue on Police and Domestic Violence, as part of our effort to move the public discourse to achieve safety and ensure justice for victims, by understanding the importance of holding all abusers accountable, especially those who are charged with the duty to protect. The complete issue, Volume 20 Number 4, includes the full text of all the articles listed above, with hyperlinks from table of contents entries to articles and linked article continuations, to facilitate reading.
Keywords: Domestic Violence and Policing

Affiliations: 1: Hastings College of Law and DVR Editor.