Militarized Masculinity and Police Officers Who Commit Intimate Partner Abuse
Author: Leigh Goodmark.
Source: Volume 21, Number 03, February/March 2016 , pp.37-40(4)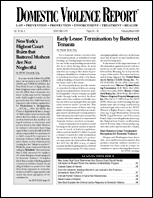 < previous article |next article > |return to table of contents
Abstract:
Media reports of intimate partner abuse by police officers are startlingly common. Studies suggest that police officers are more likely than others to commit intimate partner abuse. This Article examines the violence and abuse perpetrated by police in their private lives, against their intimate partners. The Article argues that intimate partner abuse by police offi cers is a systemic, structural problem created and fueled by the ways in which police officers are socialized and instructed.
Keywords: one of the largest issues confronting police chiefs; work-related stress; authoritarian personality; specialized batterer intervention treatment; Zero Tolerance Policy; hypermasculine attributes of law enforcement; culture disdainful of women

Affiliations: 1: University of Maryland Francis King Carey School of Law.