Case Summaries
Author: Anne L. Perry.
Source: Volume 21, Number 02, December/January 2016 , pp.24-26(3)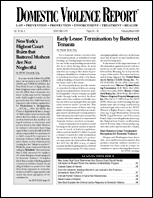 < previous article |next article > |return to table of contents
Abstract:
This column summarizes and discusses recent court cases of interest to readers of DVR, including: laws protecting employees who are victims of domestic violence, employer discrimination against victims of domestic violence, and a case of employment discrimination for failure to make a reasonable accommodation and retaliation against an employee suffering from PTSD.
Keywords: reasonable leave; discrimination; In re Curtis v. N.Y. State Div. of Human Rights; In re Castillo v. Schriro; order of protection; Prevost v. Dept. of Children and Families

Affiliations: 1: Contributing Editor of DVR.