How Police Respond to Family Violence Involving Children
Author: Megan Miller.
Source: Volume 21, Number 02, December/January 2016 , pp.23-25(3)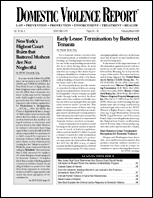 < previous article |next article > |return to table of contents
Abstract:
A review of the findings and conclusions from the first nationally representative study on interventions involving children's exposure to domestic violence. The study addresses a host of critical issues, including the factors that increase the likelihood of arrest, the relationship between criminal justice interventions and youth trauma symptoms, and the frequency of the use of best practices in responding to family violence incidents involving children.
Keywords: impact of police actions; Juvenile Victimization Questionnaire; trauma symptoms were measured; physical injury; fear for personal safety; incident severity; victim-perpetrator separation; training regarding family violence; identifying service-delive

Affiliations: 1: Hastings College of the Law.