Intimate Partner Violence in the Transgender Community
Author: Molly Nevius.
Source: Volume 21, Number 01, October/November 2015 , pp.7-9(3)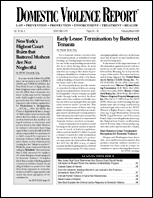 < previous article |next article > |return to table of contents
Abstract:
This article will first highlight the extent of the problem for these transgender survivors. Then it will identify the many obstacles that trans people face in trying to leave an abusive partner. Finally, it will explain recent federal protections that address some of these problems.
Keywords: disproportionate forms of intimate partner violence; withhold hormonal medication; "Outing"; economic dependence; criminal justice system bias; homelessness; VAWA Reauthorization Act of 2013

Affiliations: 1: Hastings College of the Law, Univeristy of California.