Meeting the Needs of Victims of Sex Trafficking: DV Victim Services as Appropriate Providers?
Author: Stepanka Korytova.; Toby Strout.
Source: Volume 21, Number 01, October/November 2015 , pp.3-6(4)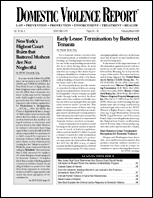 < previous article |next article > |return to table of contents
Abstract:
Does it make sense to utilize domestic violence programs to serve victims of traffi cking? This article attempts to answer that question by describing the dynamics common to both, noting the similar contexts in which the two phenomena occur, reviewing the overlapping vulnerabilities of victims, and citing the remedies appropriate to address the needs of victims.
Keywords: shelters; dishonor; reprisals for leaving; deportation; fear of authorities; entrenched patriarchy; female subjugation; level of education; access to legal remedies; self-worth; independence

Affiliations: 1: Indiana University Bloomington; 2: Middle Way House, Inc..