Hidden Victims and Hidden Abuse: Clients of Hair Salon
Author: D. Kelly Weisberg.
Source: Volume 21, Number 01, October/November 2015 , pp.1-3(3)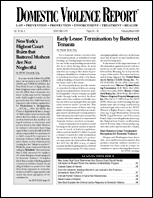 < previous article |next article > |return to table of contents
Abstract:
Beauty salons are the ideal venue for a new domestic violence prevention effort sponsored by the Professional Beauty Association (PBA) called "Cut It Out," where hair salons across the country are training hair stylists to recognize the signs of domestic abuse.
Keywords: confidante; created in Alabama in 2002 by the Women's Fund of Greater Birmingham and the Alabama Coalition Against Domestic Violence; provide clients with contact information for local domestic violence organizations

Affiliations: 1: Editor, Domestic Violence Report.