Intimate Partner Homicide Suicide in Later Life: Understanding Motives and Risks
Author: Sonia Salari.
Source: Volume 21, Number 01, October/November 2015 , pp.1-5(5)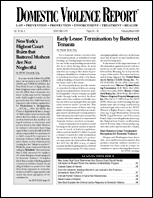 next article > |return to table of contents
Abstract:
Intimate partner homicide suicide (IPHS), although rare, is among the most severe forms of family violence, often resulting in multiple fatalities. Elder adults are not immune, with as many as 20 deaths from elder murdersuicides per week, 5 and some suggest these events are on the rise. This article examines the conditions commonly associated with initmte partner violence (IPV), the motivations, misconceptions and implications in the current generation and the factors that may effect future generations.
Keywords: murder-suicide; relationship estrangement; dyadic overdependence; chronic illness and depressive symptoms; family annihilator; mercy killing; Suicide pacts; tendency to romanticize IPHS among the elderly

Affiliations: 1: University of Utah.