Expanding the Definition of Partner Violence: New Sexting Coercion Research
Author: Michelle Drouin.
Source: Volume 20, Number 06, August/September 2015 , pp.85-87(3)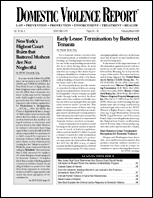 < previous article |next article > |return to table of contents
Abstract:
Millions of young adults who have engaged in sexting, sent sexually explicit text messages to romantic partners when they did not want to, and have experienced a new type of digital victimization—sexting coercion. This article higlights the research methods and findings of recent study published in Computers in Human Behavior, Dr. Jody Ross, Elizabeth Tobin, and Michelle Drouin examine sexting coercion in terms of its prevalence and its relationships with physical sex coercion, intimate partner violence, and negative mental health and trauma symptoms.
Keywords: sexually explicit text messages; digital victimization; sexting coercion; Sexual Coercion in Intimate Relationships Scale (SCIRS); negative mental health and trauma

Affiliations: 1: Indiana University-Purdue University.