Interference With a 911 Call: Is it a Crime?
Author: D. Kelly Weisberg.
Source: Volume 20, Number 06, August/September 2015 , pp.84-85(2)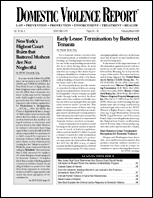 < previous article |next article > |return to table of contents
Abstract:
Imagine that a violent assault is taking place in a home. The victim somehow manages to break away from her husband's grasp. She runs to the telephone in the next room and frantically dials 911. However, before she can speak to a dispatcher, the husband comes up behind her and unplugs the phone. Has a crime been committed stemming from the husband's interference with the 911 call? The answer is "yes" in about two dozen states.
Keywords: dispatchers at 911; Physical interference; Verbal interference; interference statutes; State v. Brandes, 781 N.W.2d 603; imminent danger

Affiliations: 1: editor of DVR, Hastings College of the Law.